D Series (PCI)
Product Information

D-series (PCI)
Check detailed product information of the LG Network D series (PCI).
The revolutionary LG Network Monitors enable a single PC to be shared
by up to 11 users at the same time.
---
The solution has three components: LG Network Monitors, a PCI-card kit* and the host PC*.
The PCI-card is installed in the host PC and up to 5 LG Network Monitors can be connected
to the host PC. Add another PCI-card, and 5 more LG Network Monitors can be connected
to that host PC. Including the native user on the host PC, that's a total of 11 computing stations
per PC! Each user connects his/her peripherals directly to the LG Network Monitor and gets
a full computing session.
Eleven Users on One PC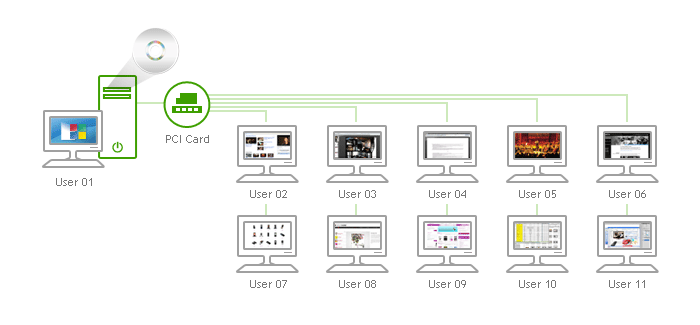 Simplify IT support. Reduce hardware costs. Its all possible with LG Network Monitors.
* NComputing X550 PCI Card Kit(s) required and sold separately (one kit for up to 6 users,
two kits for up to 11 users). The number of users a PC will support depends on the host system
capabilities as well as applications used and the Performance expectations for those applications.
Additional software licenses for specific applications may be required For additional users and
are sold separately.
Product Code:
D S6106
Subscribe to our mailing list: